feature / leisure
fukushima
saitama
niigata
uonuma
Lake! Mountain! Park! 4 spots where you can get physical activity surrounded by great nature in Eastern Japan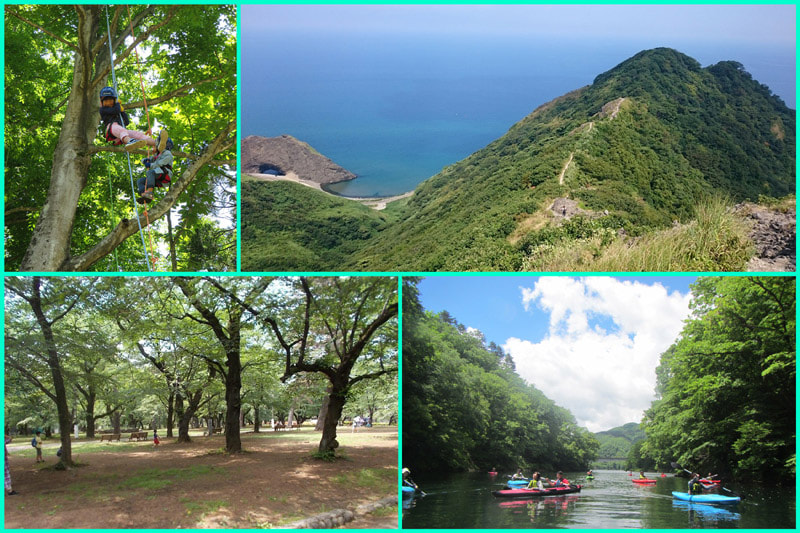 Summer has finally arrived in full swing! This time, we introduce a course where you can experience the essence of "Summer" with nature, including mountains, parks, lakes, and various activities. You can enjoy activities such as hiking, kayaking, and tree climbing while listening to the chirping of insects in nature. Look for your perfect "Summer attraction" according to your stay time. All facilities are outdoors, so don't forget to stay hydrated when you go out to play!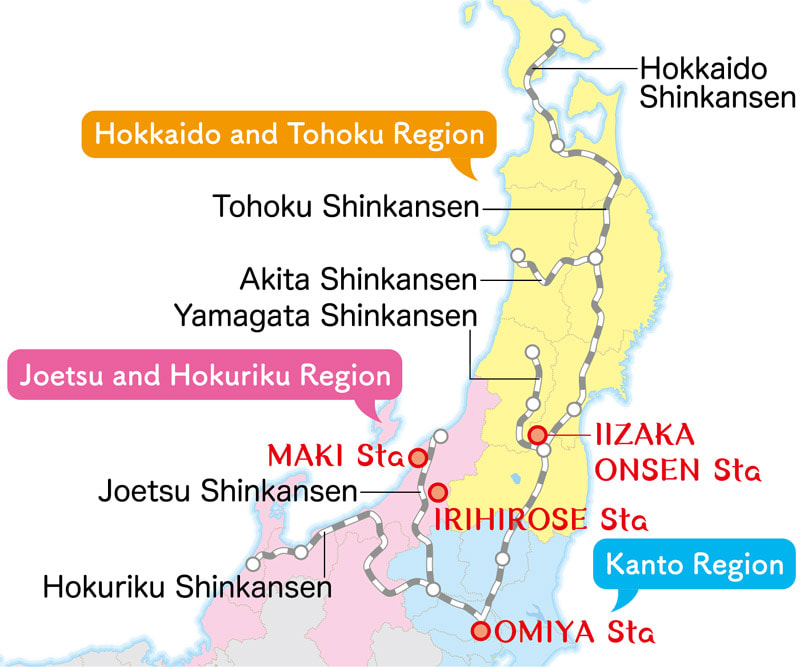 Your journey starts at Iizaka Onsen Station in Fukushima City, then takes the local line to Fukushima Station, followed by the Tohoku Shinkansen to Omiya Station. From there, take the Joetsu Shinkansen to Tsubame-Sanjo Station and then take the local line to Maki Station. To reach the ultimate destination, Irihirose Station, take the local line and the Joetsu Shinkansen from Maki Station. This course can also be traveled by car, so we recommend choosing the mode of transportation that fits your purpose.
"Lake Moniwakko Kayak Tour" in Fukushima City
Calm lake surface can be recommended for beginners and children Kayaking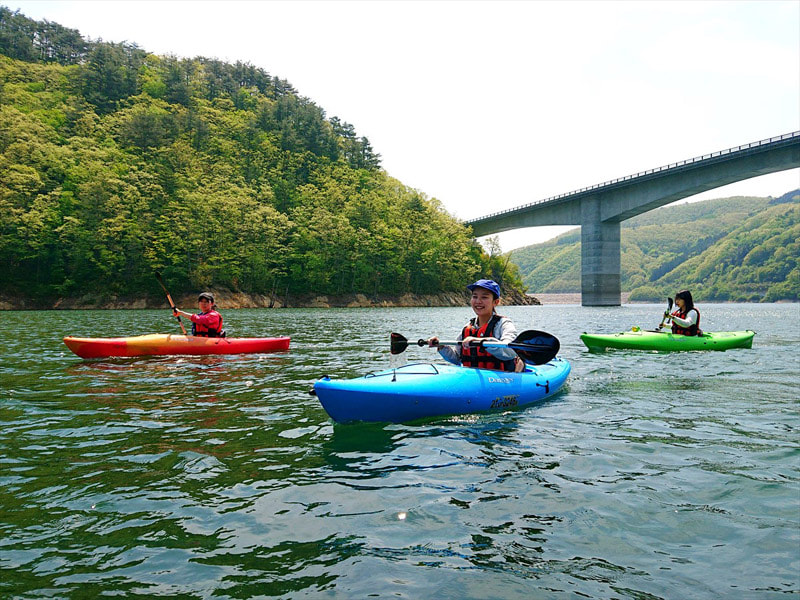 The summers in the mountainous areas of Fukushima Prefecture are cool, it is said that you would feel about 3 ℃ lower than in urban areas. Located in the mountainous border between Fukushima, Yamagata, and Miyagi prefectures, the Surikami River flows through a dam called "Lake Moniwakko" a spot where visitors can enjoy the beautiful scenery that seamlessly integrates with nature throughout the seasons. One of the unique features of this location is the occasional sighting of wild animals. The "Lake Moniwakko Kayak Tour" (pictured), available from April to November, is a popular attraction.
Lake Moniwakko Kayak Tour
A "kayak" is a small watercraft with a closed deck that envelops the lower body, used for outdoor sports and activities on water surfaces such as the ocean or lakes. It is propelled using a paddle with blades on both ends. "Moniwakko (Surikamigawa Dam)" is the source of "Fukushima no Mizu '' which has won the gold award for three consecutive years at the Monde Selection for its excellent water quality. The lake keeps a calm and beautiful surface by prohibiting the use of motorized boats, so all beginners can enjoy Kayaking safely. Single-seater kayaks are available for children in 4th grade and above. The price includes the rental fee for the kayak, paddle, and life jacket, the insurance fee, and the lesson fee. For junior high school students and above, the price is 6,000 yen per person, for elementary school students and below, it is 5,500 yen per person. For two-seater kayaks, the price is 5,500 yen per person for junior high school students and above, and 5,000 yen per person for elementary school students and below. Children aged 4 and above who are not yet in 4th grade can use two-seater kayaks(pictured) with a parent or guardian. If a child aged 3 can sit calmly, they can participate as well. A reservation is required, and it's recommended to confirm the necessary items and precautions at the time of booking. After Kayaking it's also nice to stop by the hot springs!
DATA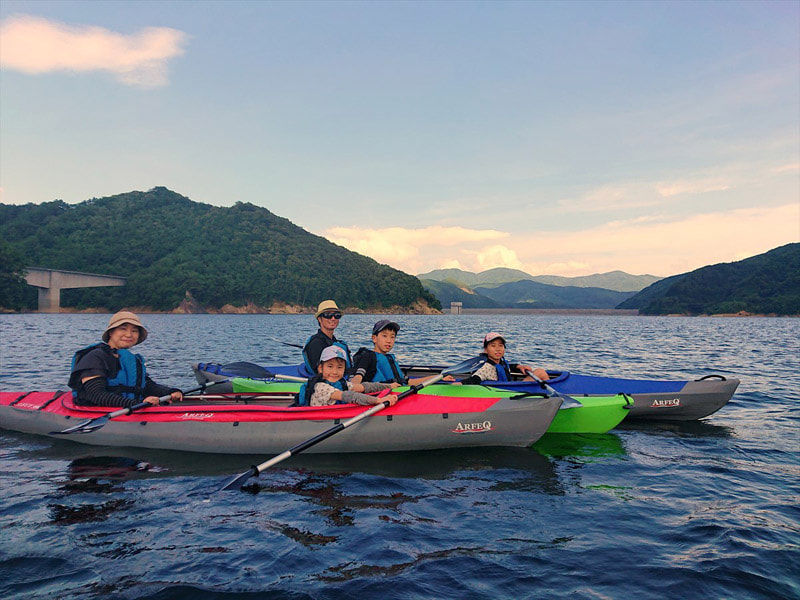 Address: 26 Yuzawa, Iizakamachi, Fukushima-shi, Fukushima
"Omiya Park" in Saitama City
Mini zoo and kids amusement park. Selected as one of the 100 Urban Parks in Japan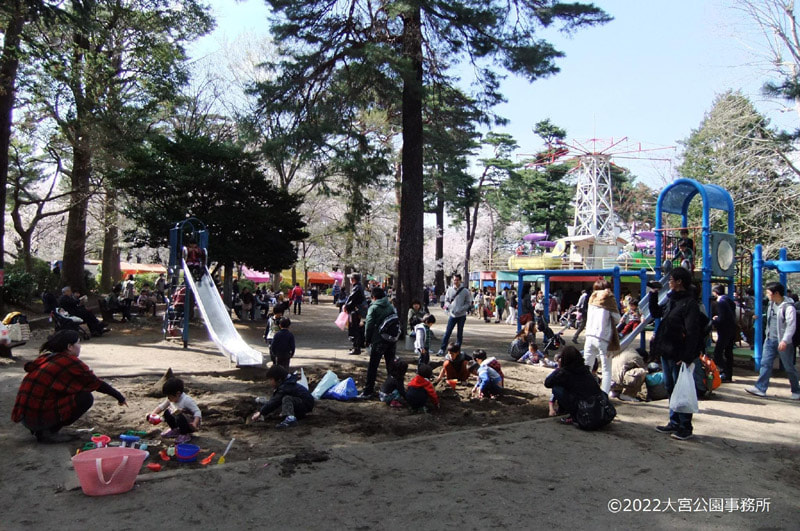 Saitama City offers various summer activities including comfortable indoor facilities, parks where you can enjoy nature to the fullest, barbecue areas, and shopping spots. Among them, "Omiya Park" (pictured) holds the oldest history among the existing prefectural parks. It is a popular spot that has been selected both as one of "the top 100 Famous cherry blossoms spots in Japan" and "the top 100 Selected Urban Parks in Japan" and is the most utilized prefectural park in Saitama Prefecture. The location is about a 20-minute walk from Omiya Station.
Omiya Park was created in 1885 (Meiji 18) as the first prefectural park in Saitama Prefecture. The park features a red pine forest with trees over 100 years old and a Japanese garden, as well as numerous beautiful trees that are particularly stunning during the season of fresh green. The Boat-riding pond is surrounded by a promenade, and you can enjoy a picnic-like atmosphere by walking around the water's edge. The free mini zoo features animals such as monkeys, foxes, and Japanese black bears. You can observe various birds like flamingos up close in the large flying cage. There are retro rides and play equipment at the Kids' amusement park that you can enjoy for 100 to 200 yen, especially the flying tower (pictured) which is a popular ride that some people visit just to experience it. The prefectural Omiya stadium in the park hosts several Saitama Seibu Lions baseball games throughout the year, as well as the qualifying rounds for the Saitama Prefecture high school baseball championship in the summer. Additionally, there is NACK5 Stadium Omiya, the home stadium of Omiya Ardija, where you can also enjoy sports viewing.
DATA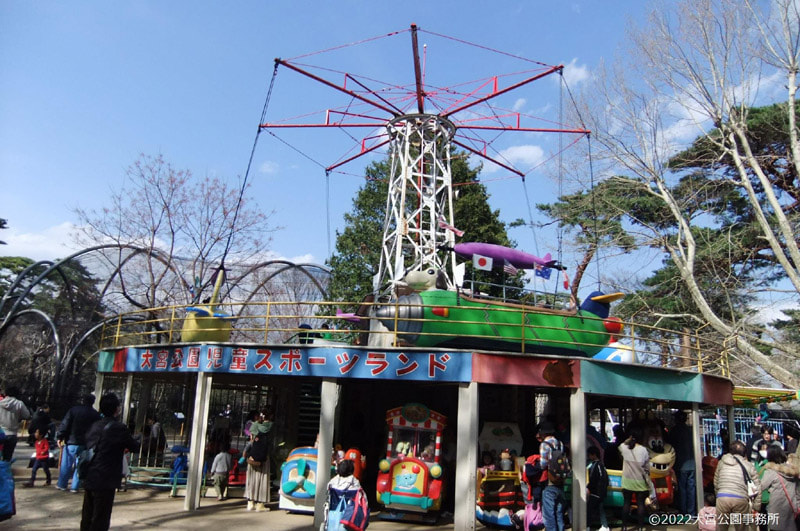 Address: 4 Takahanacho, Omiya Ward, Saitama-shi, Saitama
"Mount Kakuda" in Niigata City
trails for all beginners to experienced climbers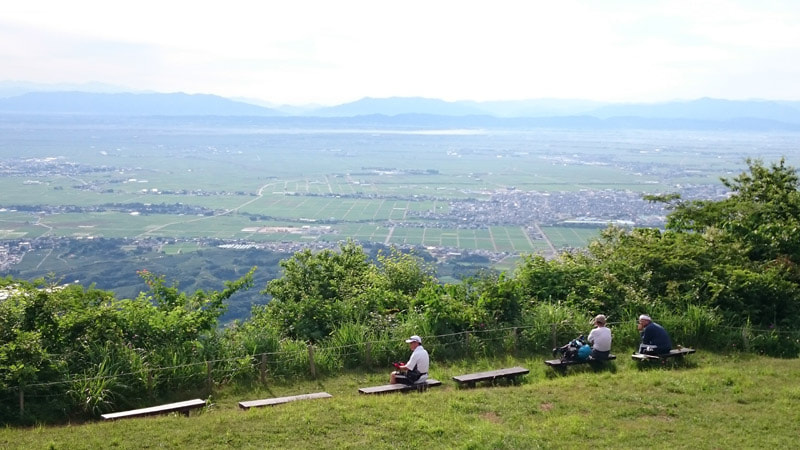 Niigata city is a perfect destination for nature lovers in the summer. It has various natural spots such as the Shinano River, Japan's longest river, and the nature-rich Toyanogata. "Mount Kakuda" (pictured) which attracts many hikers throughout the year, is also popular in the summer, and visitors can observe most of the plants and trees that grow naturally in Niigata Prefecture. Seven different hiking trails lead to the mountain summit, allowing visitors to choose a route based on their physical ability and purpose. The access varies depending on which trailhead you use, but any of them takes about 15 to 30 minutes by bus or taxi from JR Maki Station.
Mount Kakuda, also known as Mount Chojabaru, is a 481.7m tall peak located in Nishikan ward, Niigata City, Niigata Prefecture. Every year in March, the "Yama no Kami Matsuri" (Mountain God Festival) is held as a spring celebration. There are seven different hiking trails to reach the summit, including the shortest route, the "Toujima Course," the gentle and flower-filled route "Gokatouge Course," and the challenging route "Todai Course"(pictured) which climbs along the coast. The recommended easy route is the "Gokatouge Course," which takes approximately 90 minutes uphill and 50 minutes downhill. At the vast summit, visitors can take a rest and enjoy the view. Walking down the boardwalk from the summit towards the Toujima Course, visitors can have a panoramic view of the Niigata plain from the Kannon-do Mae Hiroba (upper photo)."
DATA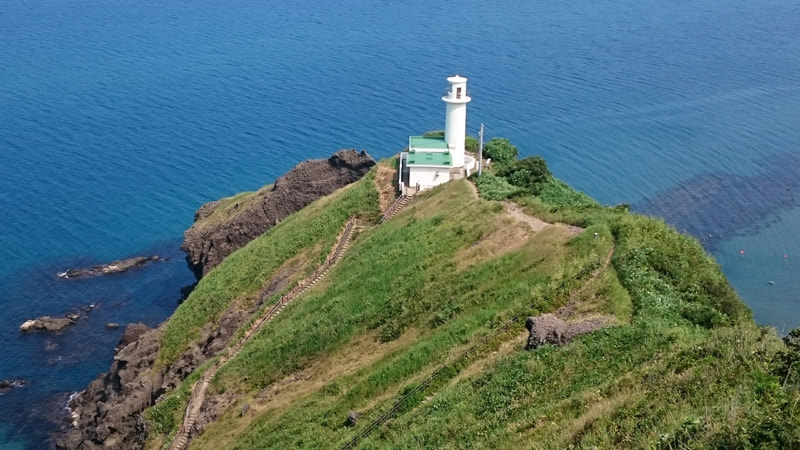 Address: Nishikan Ward, Niigata-shi, Niigata
"Echigo Herd Kozono Irihirose" in Uonuma City
Experience safe tree climbing by rope up a large beech tree.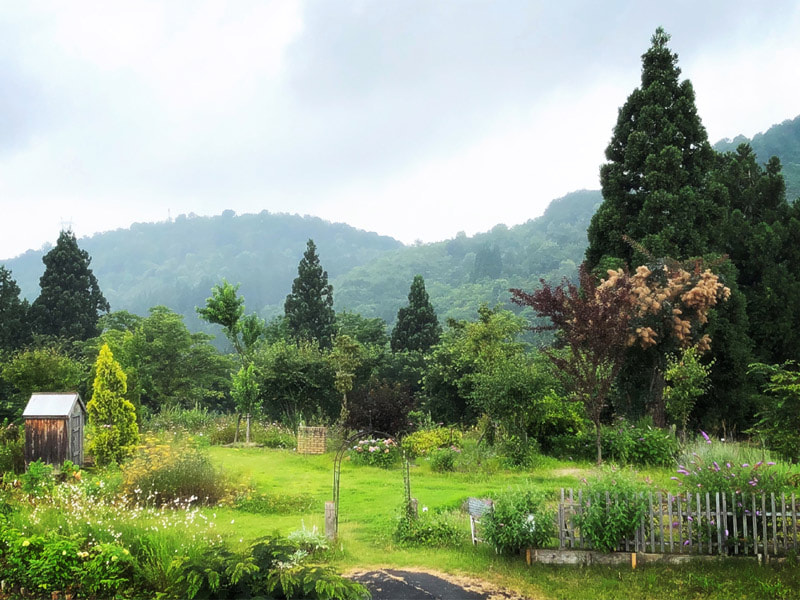 Uonuma City is surrounded by mountains over 2,000 meters high, including Echigo Komagatake and Hiragatake. It is located in a heavy snowfall area with over 3 meters of snow in winter, but also known for being one of Japan's leading areas for lilies, with 10,000 of them in full bloom at the "Hana Hiroba" in Tsukioka Park during the summer and autumn seasons. At the "Echigo Herb Kozono Irihirose" (pictured), visitors can enjoy a variety of herbs depending on the season and explore four different gardens. There are also nature crafts using herbs and wood to create works of art, as well as tree climbing using ropes available for visitors to experience.
Echigo Herd Kozono Irihirose
"Echigo Herb Kozono Irihirose" is located about a 10-minute drive or taxi ride from JR Irihirose Station. The park features four gardens, "Herb Garden", "Lavender Garden", "Rose Garden", and "Rock Garden", and visitors can enjoy a panoramic view of the Uonuma region from the rest area on the hill., including the Echigo Sanzan and the surrounding mountains of Uonuma, Tree climbing on large beech trees is a safe and secure experience with the guidance of an instructor using climbing ropes Children from the first grade of elementary school and above can participate, and the activity is only available on weekends and public holidays. The participation fee, including gear rental, insurance, and instruction fees, is 1,500 yen. Reservations are required to participate, and it is important to confirm necessary items and precautions when making a reservation. Echigo Herb Kozono Irihirose is open from May to October but may vary depending on the condition of the snow melting.
DATA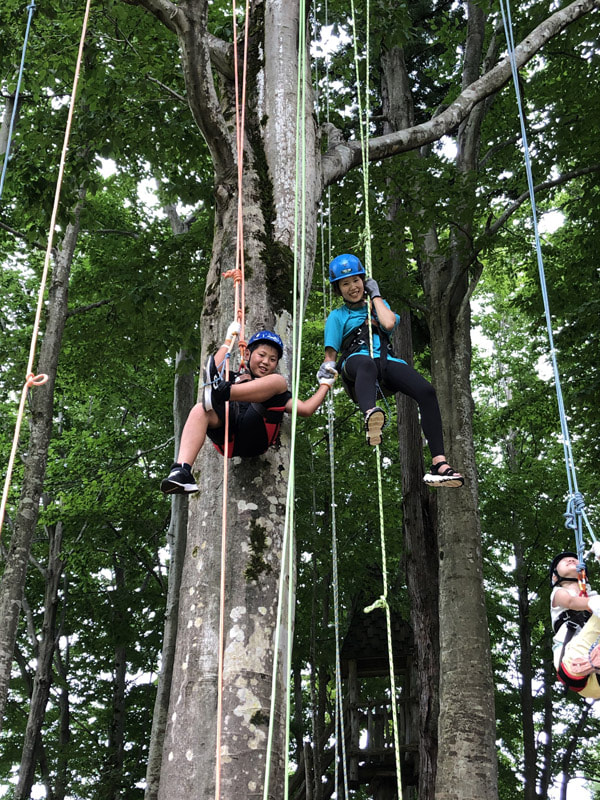 Address: 3118-1 Yokone, Uonuma-shi, Niigata
Plenty of places for people who want to move their bodies freely in the great outdoors!
We have introduced spots where you can "get your body moving" in nature. Please note that some activities may be canceled due to weather conditions, so be sure to check with each facility when you visit.