feature / leisure
Napolitan, Ramen, Yakisoba! Be extravagant in your choice of Local Noodles that have nurtured the hometown for a long time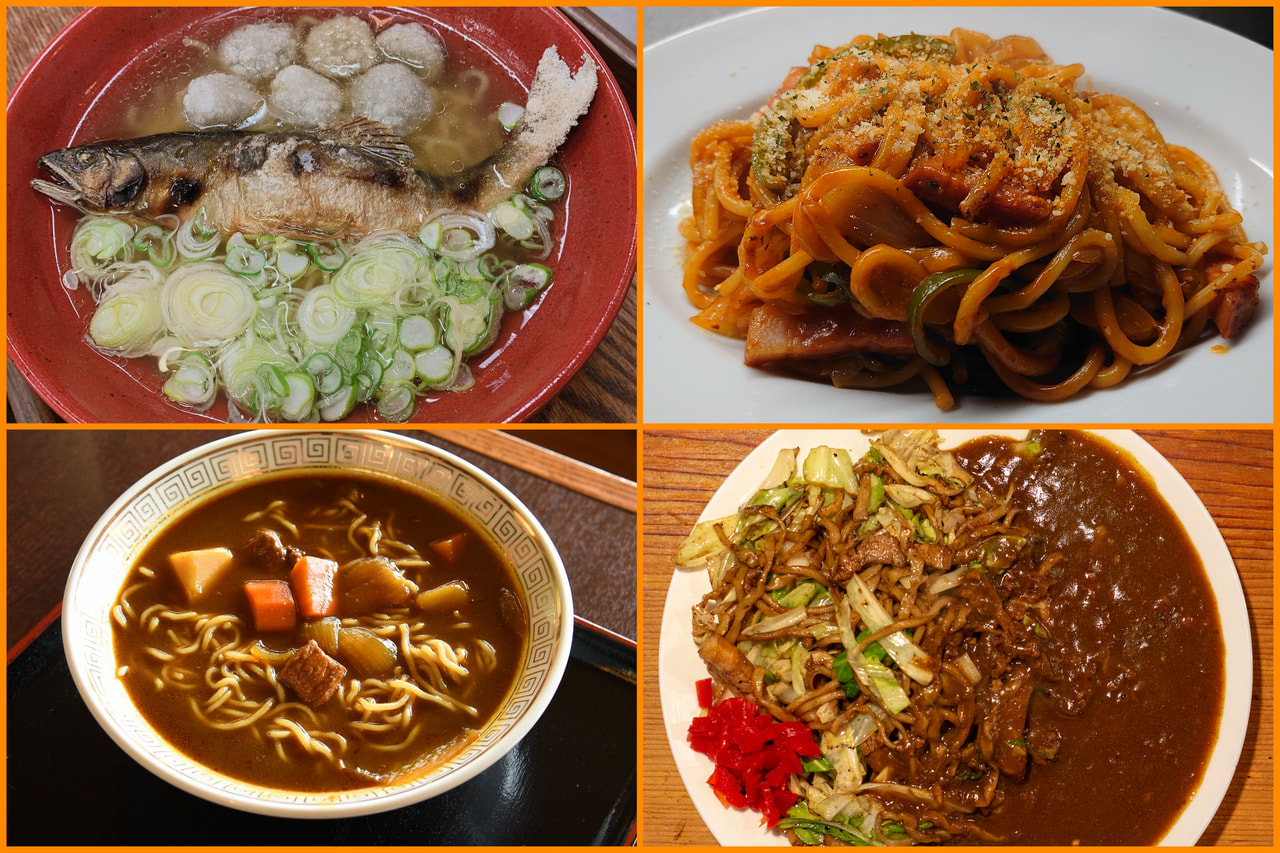 As the proverb goes, "An empty stomach cannot wage war.", It's no exaggeration to say that the soul food loved that by locals has been supporting the economy of its land. This time, we're embarking on a journey to visit only "Noodle" shops that have been cherished for years in each region, where we can savor the taste of the long-loved local flavors.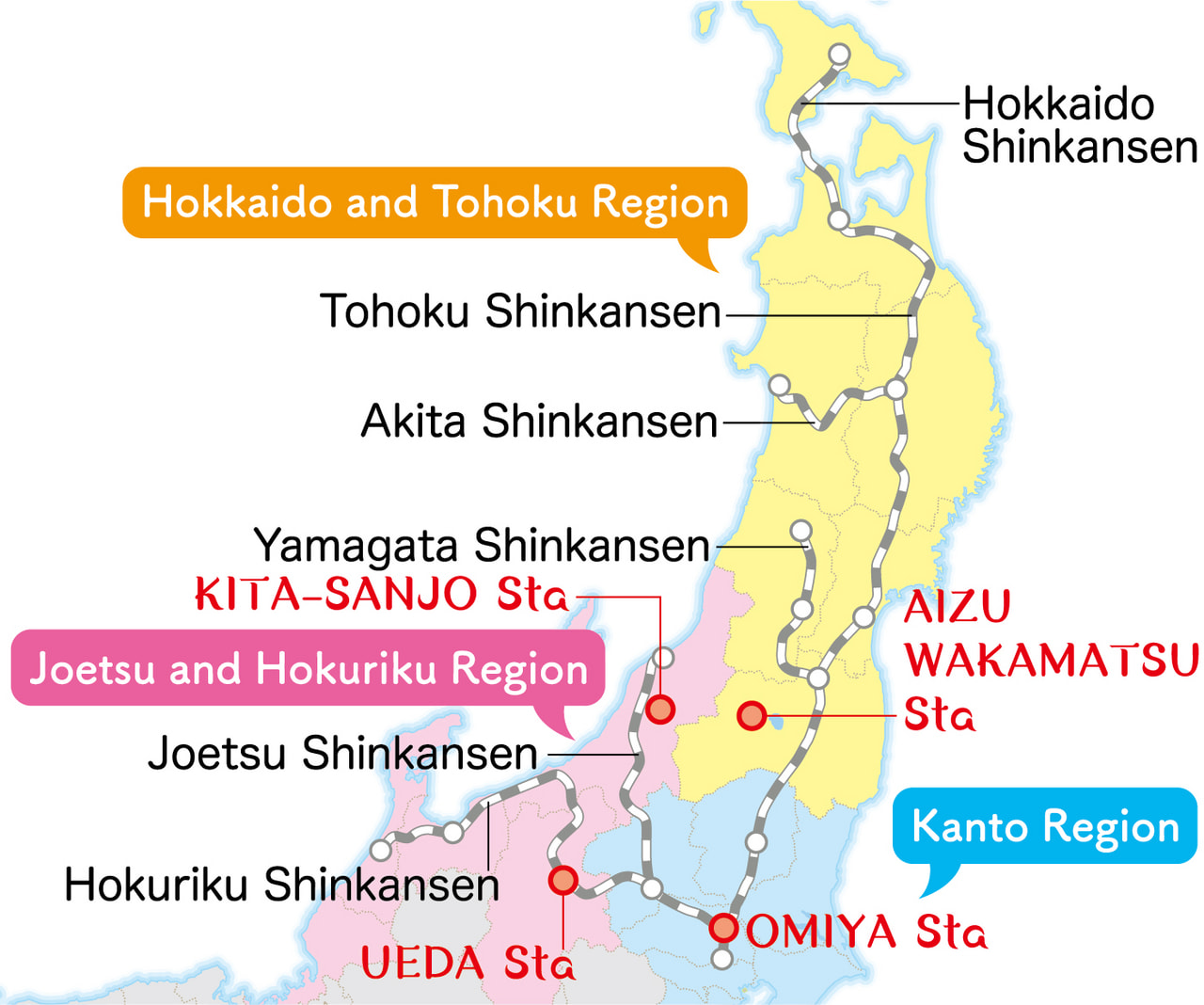 Let's start from Omiya Station. We take the Shinkansen to Ueda Station in Nagano, then transfer to another Shinkansen at Takasaki Station, and finally take a local train from Tsubame-Sanjo Station to Kitasanjo Station. We then return to Omiya Station and head to Koriyama Station on the Tohoku Shinkansen and take a highway bus from there to Aizu-Wakamatsu Station. As of October, the section between Iwaki and Koriyama/Aizu-Wakamatsu is closed, so we recommend traveling by car rather than by train.
"Napolitan" in Saitama City Beloved by railway and factory workers. Soul food of the railway city, Omiya.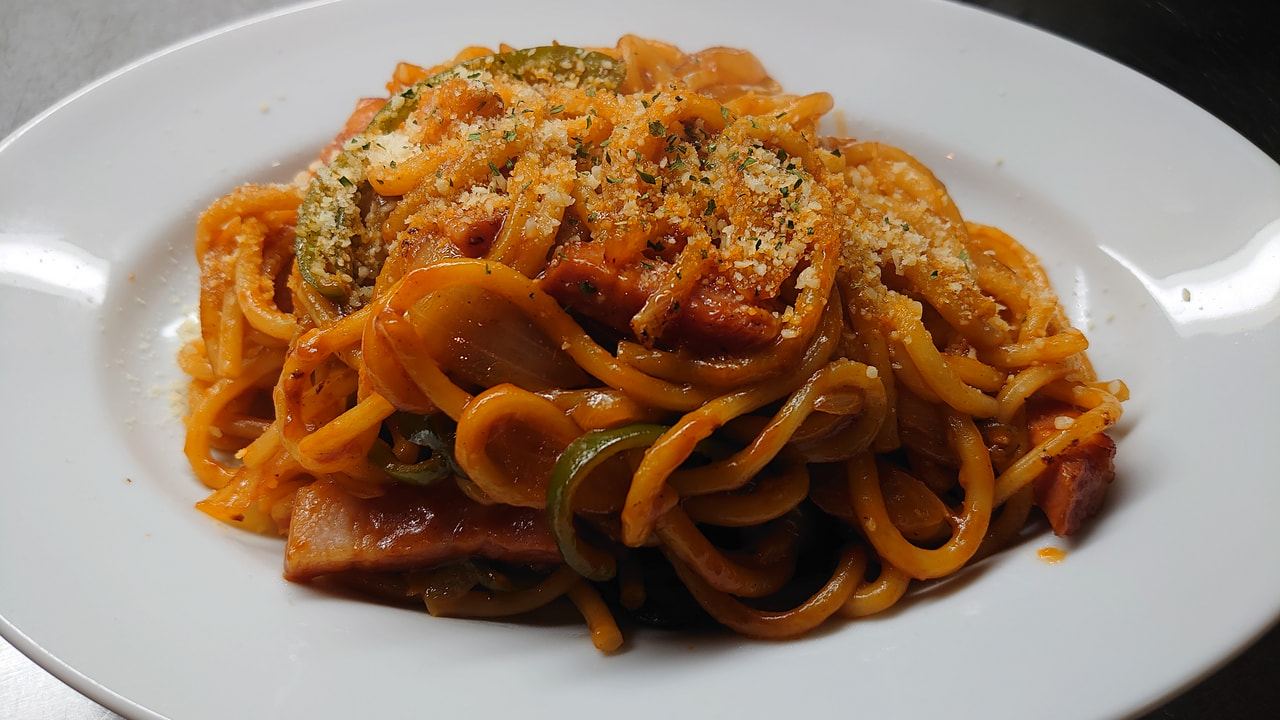 "Omiya Neapolitan" is a local specialty dish that revived spaghetti Neapolitan, a dish that has supported the people working in the railway city of Omiya. "By definition, the "Omiya Napolitan" must be served in in a store located in the former Omiya city area and use at least one ingredient produced in Saitama prefecture. This local specialty was born with the aim of becoming a new orange-colored icon, inspired by the vermilion color of the torii gate at Hikawa Shrine and the color of Omiya Ardija and Omiya Ward. Currently, you can enjoy "Omiya Napolitan" at 48 restaurants around Omiya Station (as of October 2022), each with its own unique and original version of the dish. In this article, we would like to introduce "Ore no Yoshoku Bon Appetit Omiya Branch" (pictured) located right by Omiya Station. Let's try out the distinctive original Neapolitan dishes that each restaurant has to offer. For more details on "Omiya Napolitan" please check out the Omiya Napoletan Association.
Ore no Yoshoku Bon Appetit Omiya Branch
"Bistro Bon Appetit" (pictured) is a restaurant that the owner, who has been running a restaurant for over 30 years, arranged dishes that he has found delicious throughout the years. The bistro offers a wide variety of Western-style dishes that people of all ages can enjoy, including a bistro hamburger steak for which you can choose five different sauces and oil-based pasta. The signature dish "Bistro-style My Ore no Napolitan (Omiya Napolitan)," is 1,100 yen. It is a classic Napolitan spaghetti with thick-cut bacon, onion slices, and finished with Parmesan cheese and basil. You can also order it during lunchtime (11:30-15:00, LO 14:30).
DATA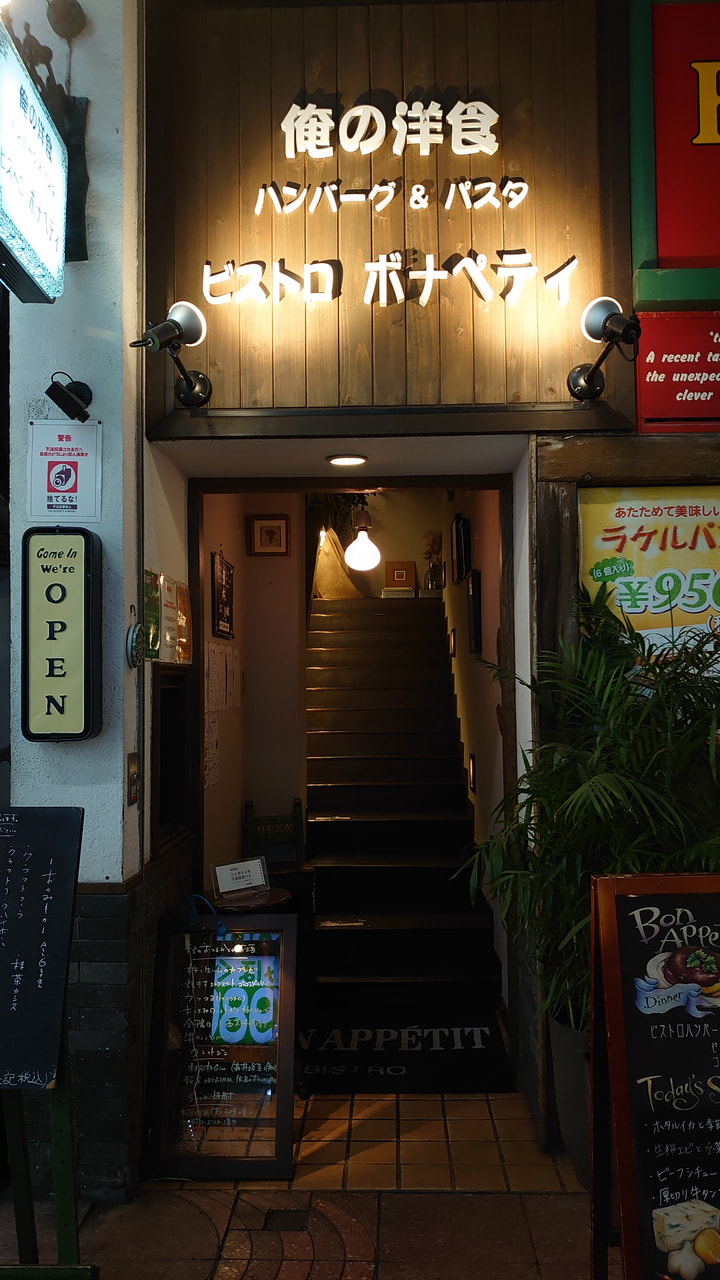 A new local noodle for taste a whole sweetfish, a specialty of the Chikuma River! "Ayu Ramen" in Ueda City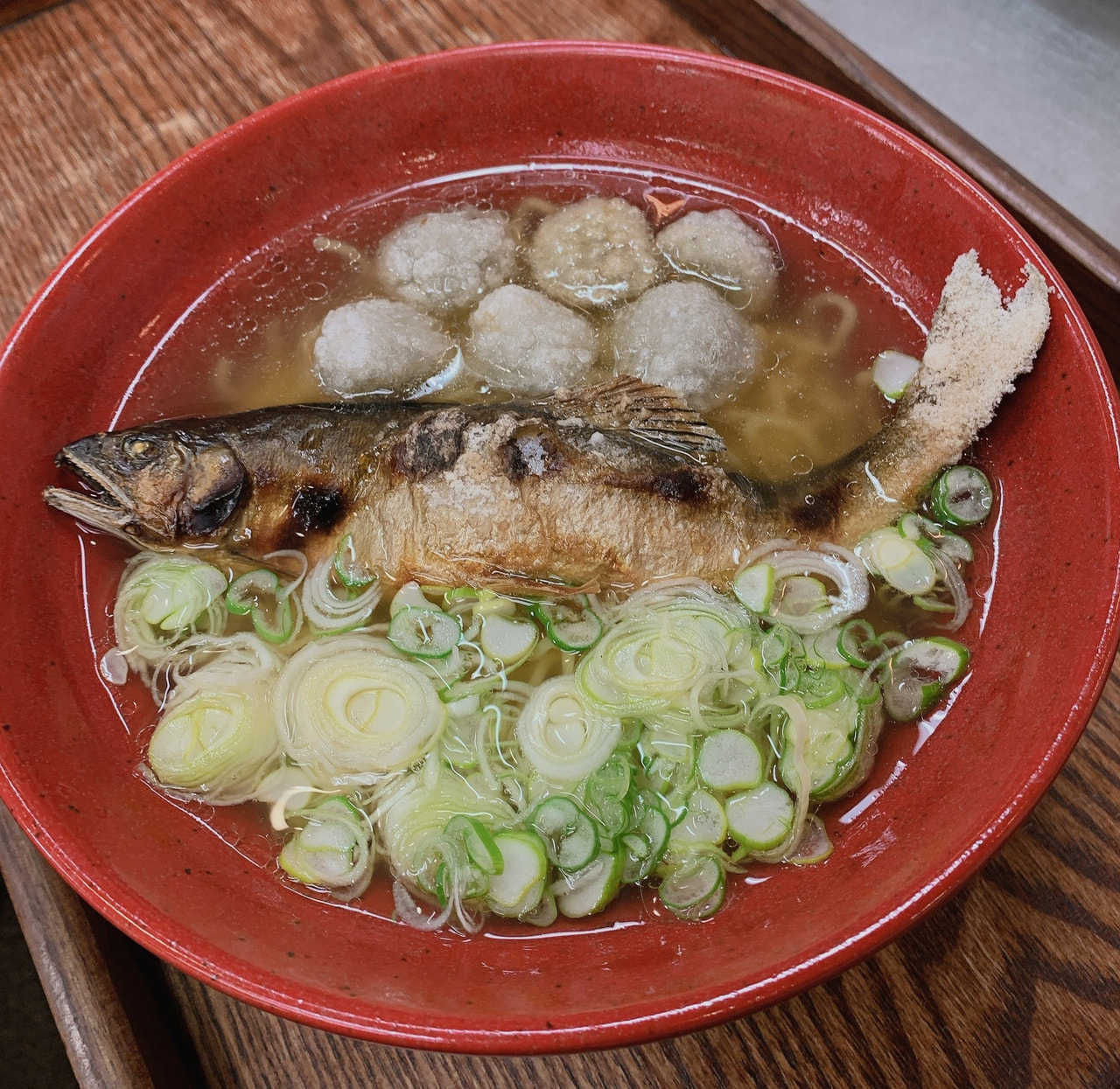 Speaking of local noodles in Ueda city, the "Ankake Yakisoba" topped with plenty of vegetables is a popular dish. That being said "Ayu Ramen" made with river fish is also a must-try gourmet dish. Introducing "Koinishi Honten" (pictured), where you can enjoy Ayu Ramen made with a whole sweetfish ayu.
Ayu, a river fish that truly represents the Chikuma River, can be enjoyed whole in the "Ayu Ramen"at "Koinishi Honten " where you can order it year-round, near Ueda station. The soup is made by soaking approximately 50 dried and grilled, natural and farmed ayu, along with green onions and kelp, in water for 10 hours, and then slowly simmer for four hours over low heat with a lightly salted base. Fish balls are made by grinding the ayu meat, mixing it with mashed yam and other ingredients, forming them into balls, boiling and deep-frying them until crispy, and then cutting them in half to create six pieces that resemble Sanada's Rokumonsen coins. To enhance the flavor of the dish, a freshly grilled salted ayu is placed whole on top. The "Ayu Ramen" (pictured) is priced at 1,320 yen, while the one with char siu pork is priced at 1,650 yen. In addition to the ramen, customers can also enjoy sashimi and grilled dishes featuring carp, Iwana, Dojou, and eel.
DATA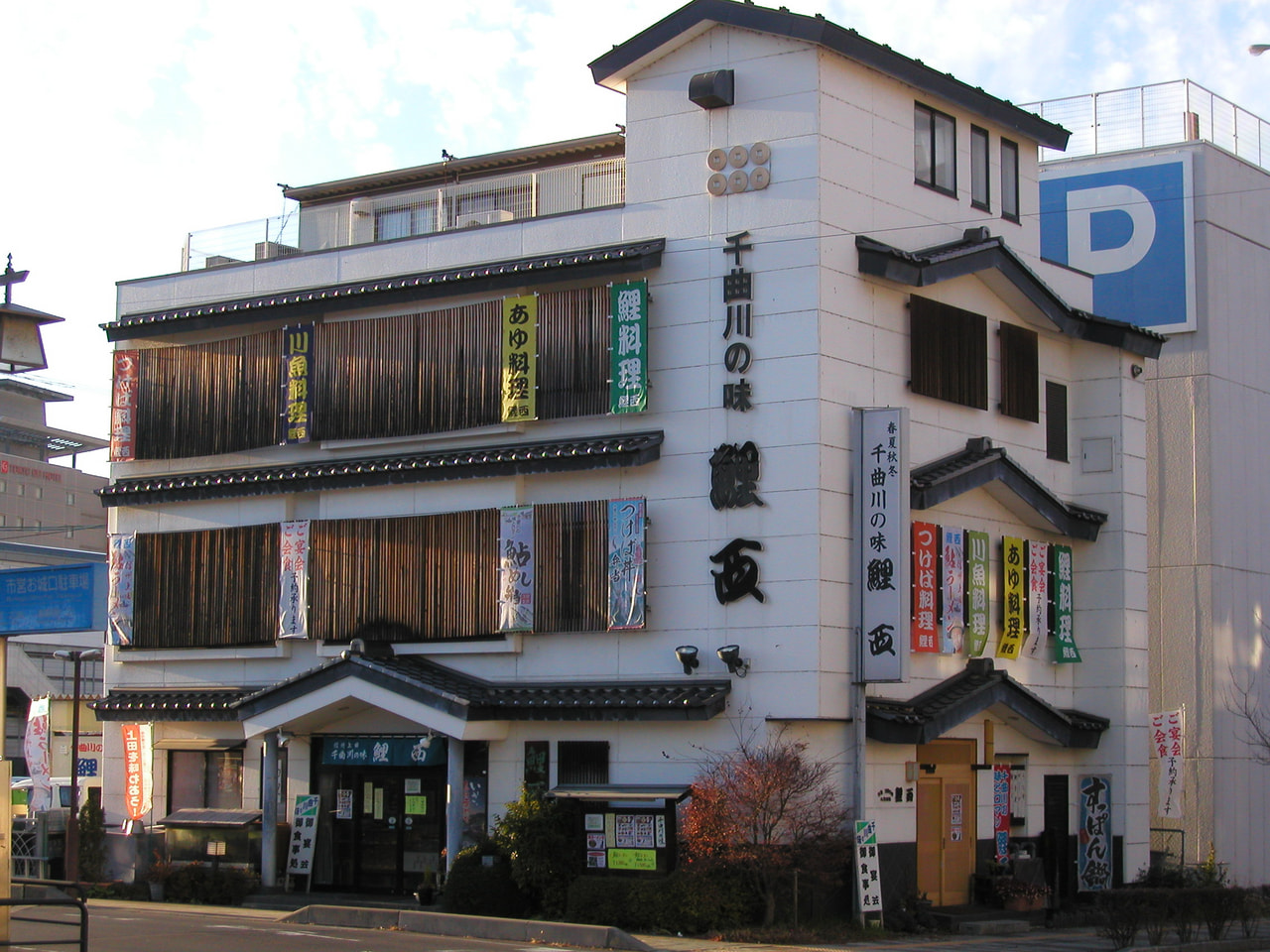 Address:1-9-19 Tenjin, Ueda-shi, Nagano
"Curry Ramen" in Sanjo City A classic delivery dish for blacksmiths in metal industry city Sanjo!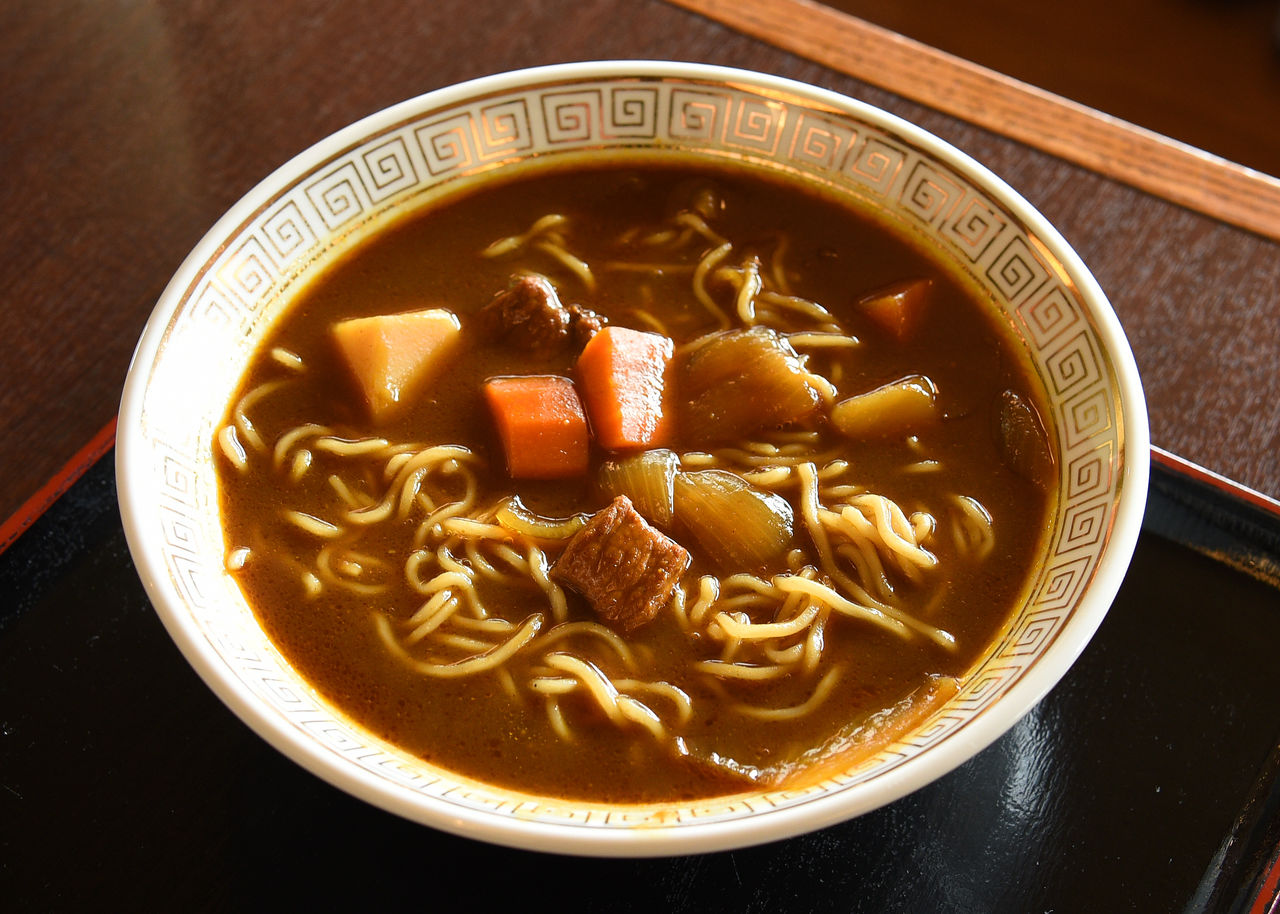 Niigata Prefecture boasts a rich food culture, with five types of ramen known as "The Five Ramen of Niigata": "Nagaoka Ginger Soy Sauce" "Tsubame Lard" "Niigata Rich Miso" "Niigata Light Soy Sauce" and "Sanjo Curry Ramen." Among them, the "Sanjo Curry Ramen," produced in Sanjo City, has a history of over 70 years. It was a popular delivery dish among busy craftsmen who had no time for meals in the town's factories during the high-growth period, it has been passed down along with the city's industrial development. We introduce "Taishu-shokudo Masahiro" (pictured), a diner that has been serving "Curry Ramen" as its signature dish since the late 1960s (around Showa 41-42).
The "Curry Ramen" (pictured) at Masahiro is 900 yen and has remained unchanged since its establishment. While the ramen alone is delicious, we recommend the "Curry Ramen Set'' which comes with rice and Fukujin-zuke pickles for 1,000 yen. The unique feature of Masahiro's curry ramen is that the curry and soup are combined from the start, whereas some other shops may place the curry on top of the ramen separately. To create the curry for the ramen, spices are added to the broth, resulting in a unique flavor that differs from most ordinary curry. The flavorful broth is obtained by simmering a base of pork bone and chicken stock with dried sardine, Hidaka kelp, Katsuobushi, and aromatic vegetables. The in-house handmade noodles are medium-thick and have a curly texture that blends well with the curry soup and goes perfectly with the rice.
DATA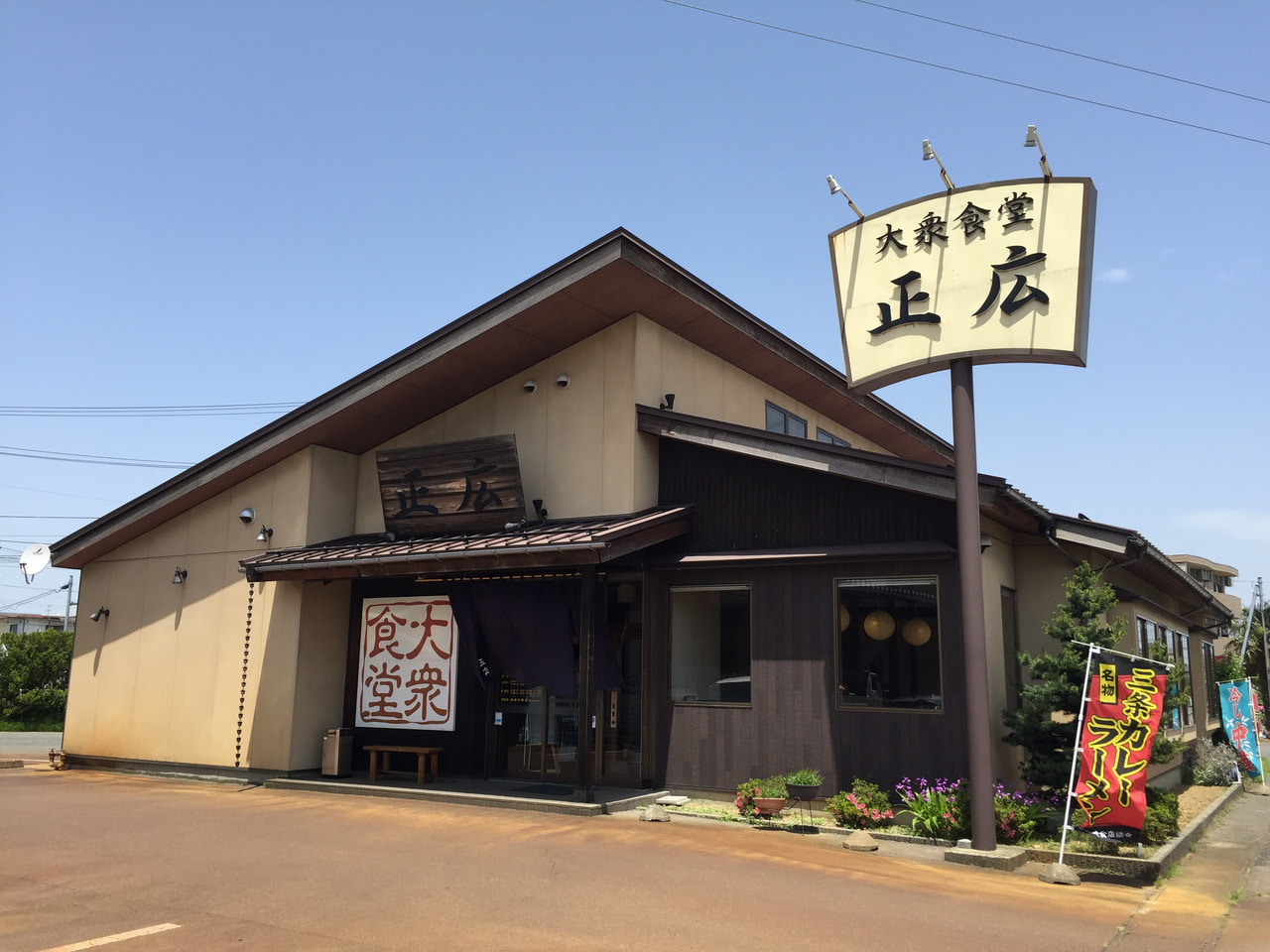 Address:2-13-38 Ishigami, Sanjo-shi, Niigata
"Curry yakisoba" in Aizuwakamatsu City Cheap and voluminous specialty! Beloved as a meal, snack or finishing off noodles.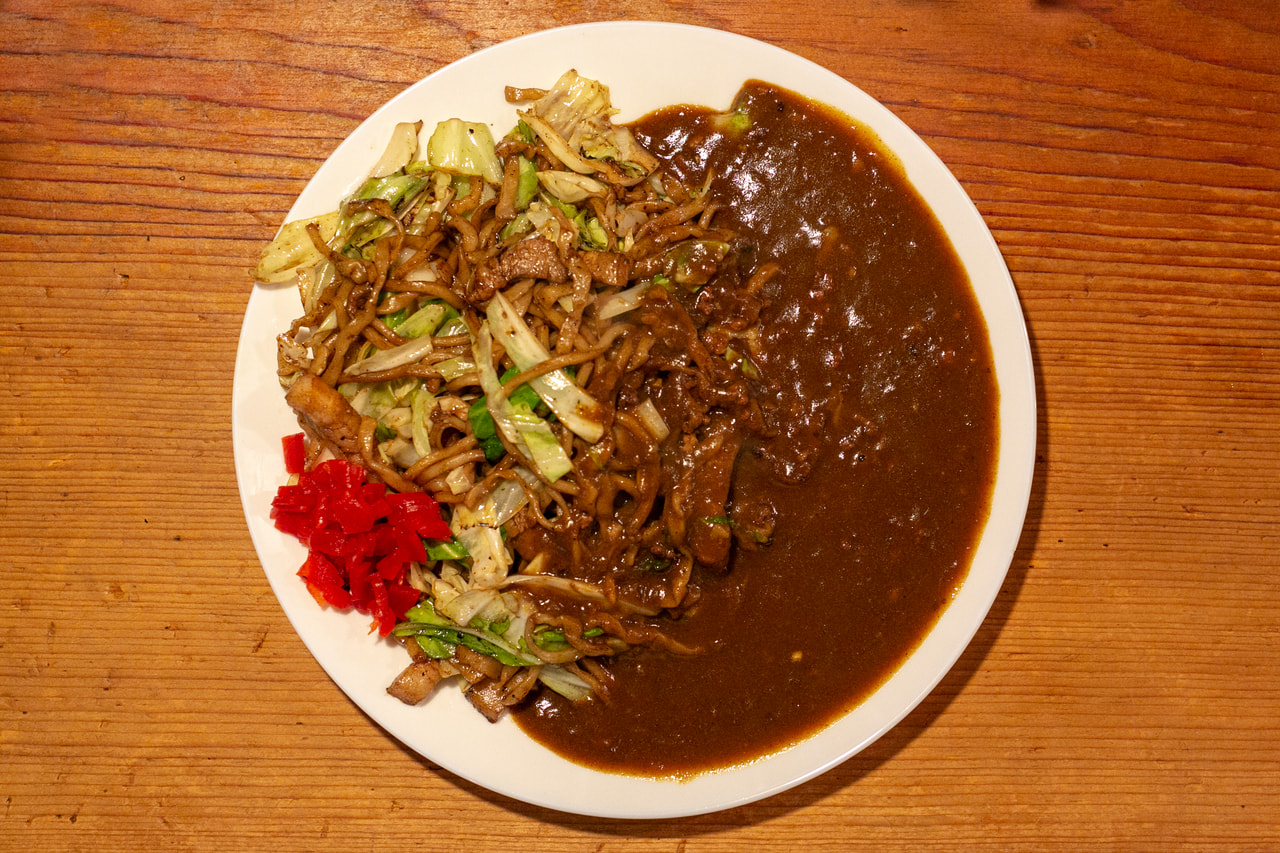 "Curry yakisoba" is a local speciality of Aizuwakamatsu City, which is stir-fried noodles with sauce curry roux on top. With its appeal of cheap and generous portions, it has been popular especially among young people since the Showa 50's(around 1975). Nowadays about 10 shops serve "Curry Yakisoba" and each offering various ways of enjoying it, such as choosing toppings like pork cutlet or Sunny-side up egg, thick or thin noodle, or even pasta. Today we are introducing "Izakaya Juraku"(pictured) which an old izakaya with a 50-year history.
The owner of "Ramen Izakaya Juraku" is the chairman of the "Aizu Curry Yakisoba Association", which was formed in 2010 with the goal of revitalizing the local community through "curry yakisoba." Their signature dish, "Aizu Curry Yakisoba" (pictured) costs 1,050 yen and is not just a simple "curry-flavored yakisoba," but rather a good cheap eats dish that is unique to the Aizu region, where curry is poured over the basic sauce yakisoba. The dish features thick curly noodles reminiscent of ramen and has a spicy flavor that goes well with beer. For those who want to enjoy more curry, "curry fried rice" is also recommended. In addition, there are plenty of other Izakaya menu items, such as simmered pork soft bone and more.
DATA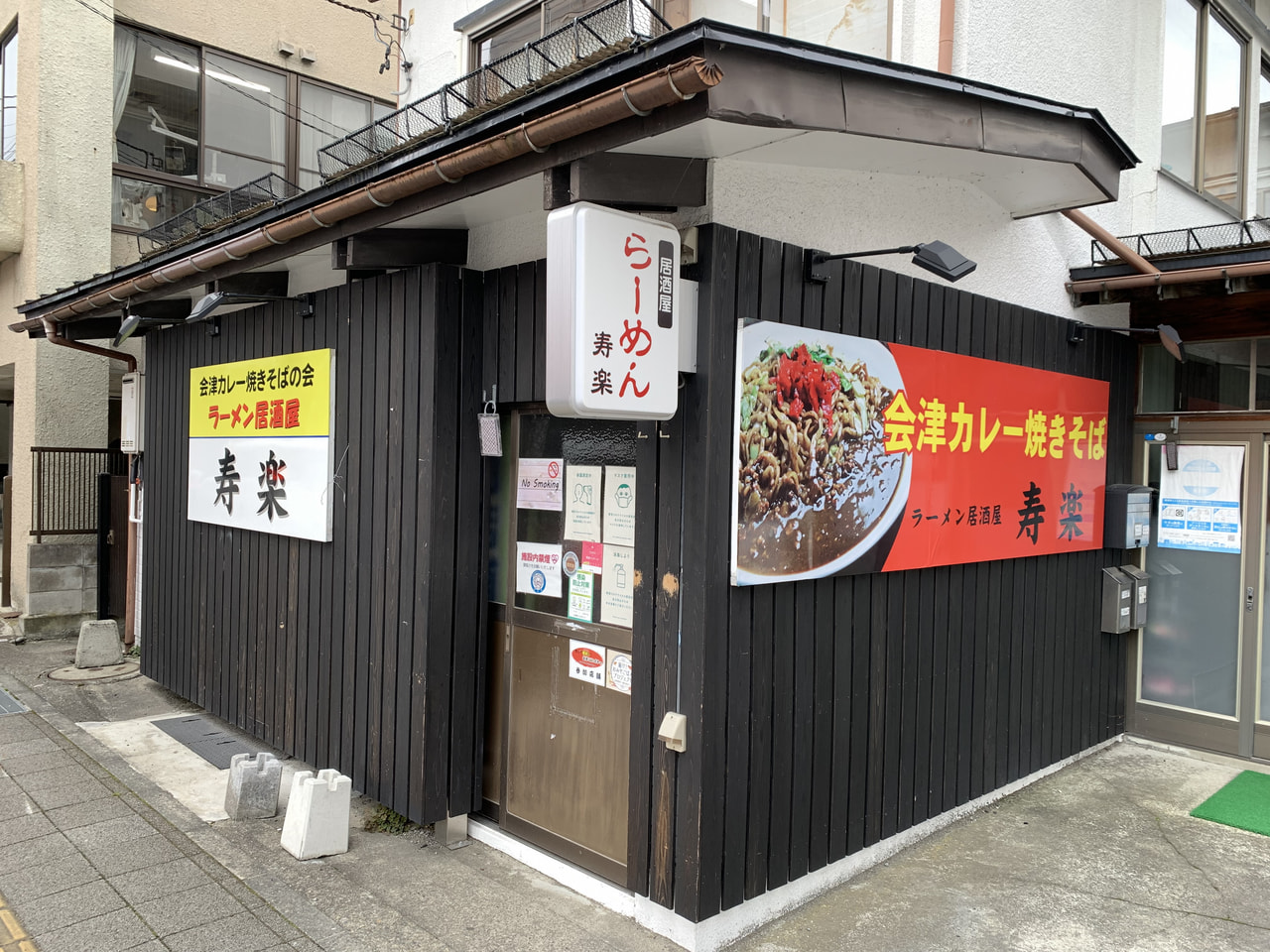 Address:2-45 Babacho, Aizuwakamatsu-shi, Fukushima
Enjoy local noodles that are rooted in the area and get to know the land!
A soul food that supported local workers in the region. Try tasting the beloved local noodles that continue to support the community and enjoy the flavor that sustains the area.
All prices in the article include tax. Prices are subject to change without notice.